Oh-so-easy
Getting access to cash in an emergency shouldn't be hard. If you need a little loan in a hurry, MyOzMoney is here to help.
We make it easier for Australians to take out small loans in times of need, when small amounts of money can go a long way, without all the hassle.
100% online
Applying online for small loans can be done right on our website, 24 hours a day, 7 days a week. Our Frequently Asked Questions section answers the most common questions from customers. You'll find our contact form on every page, together with a Quick Start application form, to make your application a breeze. And with our online calculator, it's easy to find out how much you can borrow. If you're approved, your small loan can be in your account within the hour.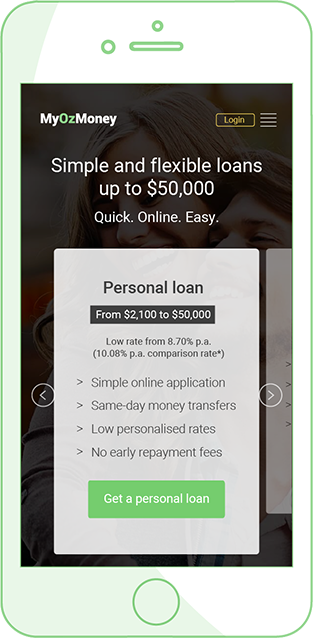 Comfortable repayments
With MyOzMoney, a transparent repayment plan is easy to set up. Even better, repayment calculations are very straightforward, and your cost of borrowing is capped, so your interest payments are always under control.
If you foresee any issues with repaying your small loan, let us know in advance and we'll help you work out a payment plan.
Responsible lending
At MyOzMoney, we pride ourselves on being a responsible lender. We are upfront about all the related fees and costs associated with your small loan, so there will never be any surprises. And more importantly, we never provide you with a loan that your current finances can't support, whether it's a small cash advance or bigger loan.
And even though our process if completely automated, you can always contact us for any reason and talk to a real person! We're always here to help.