Simple and secure quick loans
If you're looking for quick cash to get you through a financial tight spot or to take advantage of an opportunity, a quick loan from MyOzMoney could help. MyOzMoney offers you quick loans of up to $25,000 with a fast and easy application process that saves you time and money.
MyOzMoney quick loans are simple, straightforward, and secure. And because our quick loans are 100% online, they are one of the most convenient ways to borrow money. To understand exactly how much you can borrow, you can use our loan calculator before you even begin to apply.
So why not try our quick loans today?
Looking for extra funds to meet unexpected costs?
A quick loan from MyOzMoney can assist you with unexpected expenses or time sensitive purchases that require fast funds, such as:
Locking in discount airline tickets for

 

a holiday

 

destination
Putting a down payment on that once-in-a-lifetime item you just can't let slip away
Suddenly needing to move and pay a rental bond or advance rent
Encountering unexpected emergency expenses while travelling
Storm damage to your house that your insurance won't cover
If you're usually good with your finances but unforeseen circumstances come up that require urgent financial assistance, MyOzMoney loans could help almost immediately.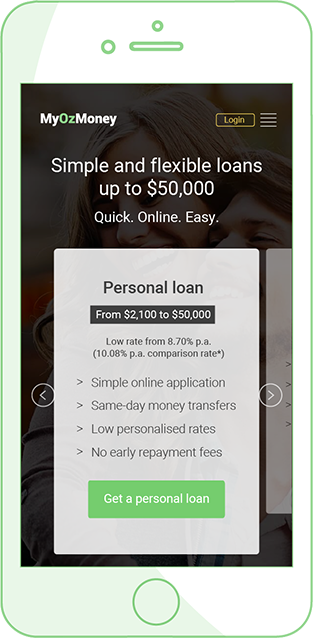 Need quick cash now?
MyOzMoney uses the latest technology so you can have access to your money faster. Our application and approval process is fast, safe, easy, and efficient. By filling out our quick online form, you could be on your way to receiving a decision on your loan in just minutes.
MyOzMoney ensures your personal information is protected at every step of the process. We use the innovative bankstatements.com.au system to verify your financial details safely and securely.
Once we have performed a secure credit check, you can expect loan approval quickly with a decision made in just minutes. Depending on your financial institution, you may receive the funds you need in just an hour.