Planning to upgrade
If you've been planning and saving to upgrade your kitchen, bathroom, or anything else on your property, MyOzMoney renovation loans can help make it happen. Many people begin renovations hoping things will go as planned, but are often slowed down by unexpected expenses that arise throughout the process. A renovation loan can provide you with the peace of mind to cover things like emergency electrical or plumbing works. It can ensure the renovation is completed without any delays, even if the unexpected pops up. This means you can add value to your home and enjoy your new space sooner, with much less disruption to your life.
Setting your budget
Before you start knocking down walls and tearing out your old cabinets, it's important to get quotes from the appropriate tradespeople so you can set a budget for your project. Home renovation costs can add up quickly, especially if you are installing new appliances and having plumbing and electrical work done. It's worth shopping around to ensure you get the best deal. Once you have gathered your quotes and set your budget, it can help to factor in an extra 10 per cent to cover any unexpected costs. At that point, you will be ready to begin your renovation.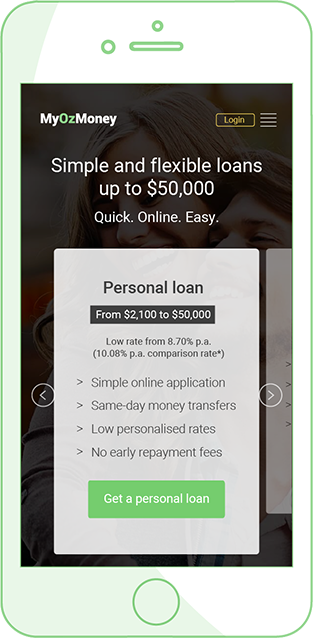 Apply online
You can apply for a renovation loan securely online at MyOzMoney. The application process only takes five minutes, and there is no time-consuming paperwork to complete. We'll assess your application electronically, and give you an answer quickly. Once approved, the cash can be in your account within an hour, depending on your financial institution. Having quick access to cash can help you negotiate a great deal on your new appliances and fittings.
Responsible lending
At MyOzMoney, we take responsible lending seriously and will only lend what we know you can afford to repay. Our small personal loans have no hidden charges, and we disclose all possible costs upfront, before you accept the loan offer. Using our loan calculator, you will be able to calculate how much your repayments will be each period. You can also choose the repayment frequency to suit your needs, and have the option to repay your loan sooner if you wish. By repaying your loan on time, you will even be able to qualify for cheaper rates on future loans with us.