Get your cash loans fast
Need money fast? Then talk to MyOzMoney to find out if you qualify for a same day cash loan up to $25,000. As a lender using financial technology, we specialise in reviewing your application within minutes and giving you an answer fast.
You will know within minutes if you qualify, and, depending on your bank, you may be able to get cash transferred within the hour. To figure out exactly how much you can afford to borrow and how much you'll need to repay, our loan calculator can help you before you even begin to apply.
Cutting edge finances
At MyOzMoney, we're serious about your money. Thanks to our proprietary cash lending solution, we can provide you with same day funds. We partner with Proviso bankstatements.com.au to speed up the verification of statements through cutting edge financial technology. That saves you time and money – exactly what you need.
Your security and privacy are also extremely important to us. This is why we use SSL security encryption on our website to protect your information. We also digitally scan your bank statements so MyOzMoney and Proviso staff cannot see your confidential information.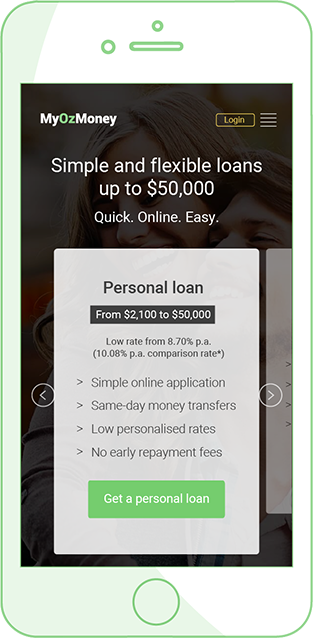 Same day funds
We've made applying for same day cash loans easy. We've simplified and automated the process so it can all be done electronically. The loan online application form only asks the most relevant questions: your personal information as well as your regular income and expenses. This helps us assess whether you're a suitable candidate for a small cash loan and will be comfortable making the loan repayments.
We also check your bank statement electronically to verify your information. If you're approved, you'll receive a confirmation within minutes and the cash can be transferred right away. If you have a Commonwealth Bank account, you'll receive the cash loan on the same day. With other financial institutions, it could take a little longer but never usually over a business day.
Good credit
If you are fully employed and receive a regular income, then you're likely to be approved quickly for same day cash loans. If your situation differs from this scenario, it can take longer to receive same day approval of your loan. But this is because responsible lenders, such as MyOzMoney, are committed to checking that you can meet your obligations comfortably given your current financial situation.
The more information you can provide that you're good with finances, the quicker MyOzMoney can approve same day loans, and the sooner you'll be able to receive your money. Apply by clicking on the Quick Start to find out if you're eligible now.