Security and consistency
Take comfort in knowing that with a MyOzMoney fixed rate loan, your repayment amounts will remain the same until you have repaid the loan. This is different to variable rate loans, where interest rates can fluctuate multiple times, changing the amount you have to repay each payment period. Fixed rate loans offer you security and consistency so you can be in control of your finances.
Peace of mind
Life can throw you curve balls every now and then, which can upset even the most savvy of savers. You may have an unexpected expense come up, like urgent car or home repairs, or needing to travel to visit a sick relative. Quick access to a fixed rate loan can give you peace of mind in uncertain situations. Fixed rate loans allow you to borrow funds to take care of the situation, while repaying your loan in manageable instalments.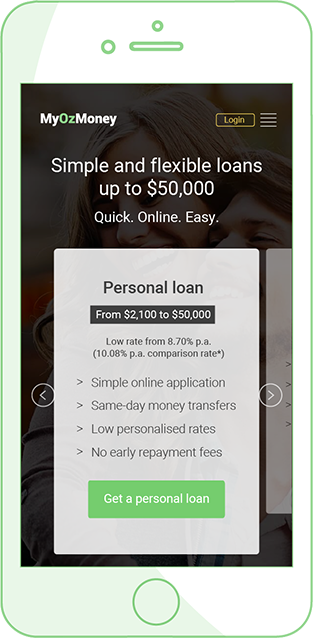 Flexible and affordable
At OzMoney, you can apply online for a fixed rate loan of up to $25,000. It is so flexible that you can use the loan to pay for holidays, help with wedding finances, or money for a car. While we have great rates for all of our loans, you can be rewarded with cheaper rates if you have an excellent credit history. If you repay your loan on time, you can also qualify for cheaper loans in the future. MyOzMoney offers flexible repayment options, so you can choose to have repayments debited in line with your income cycle, or you can make extra repayments to pay your loan back sooner.
How to apply
To apply for a loan at MyOzMoney, you need to be over 18 years of age and working. Our online application process takes just five minutes, and there is no time-consuming paperwork to complete. We use a secure online checking system, bankstatements.com.au, to automatically view 90 days of bank statements without the need for your payslips. We also check everything electronically, and give you an answer quickly. If your loan is approved, the money can be available in your account within an hour, depending on your financial institution.