Helping with the unexpected
With MyOzMoney quick cash loans, there is no need to speak with a bank lender, or print out reams of paperwork. The entire loan process can be done online via our website, and your cash will be transferred to you directly into your bank account. So if you need cash on the spot, MyOzMoney might just be the answer.
Our quick cash loans can be helpful in a range of situations:
Unexpected expenses while travelling

Vehicle repairs or towing in the case of mechanical problems

Urgent home repairs for flooding or damage

A luxury impulse buy for that special someone
Whatever the reason may be, if you need a loan quickly you can apply now.
Getting the loan
You can find out whether you are eligible for a quick cash loan by using our quick and easy application online. You will be required to provide some information to show you can comfortably repay the loan. This can include personal details, your general income and expenses, and electronic bank statements. Once you have provided all that's required, your loan can be approved quickly, often within minutes. You will then receive the funds within an hour if you bank with Commonwealth Bank, or slightly longer if you use a different financial institution.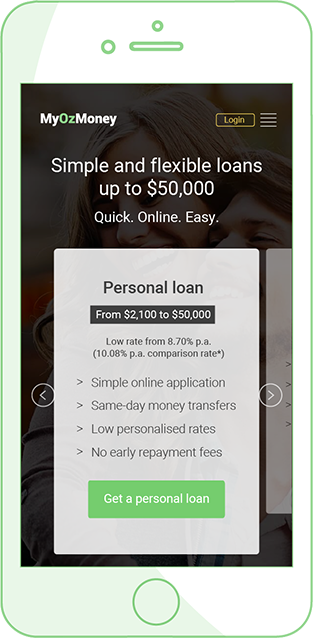 Reasonable repayments
At MyOzMoney, we always promise to be fair and upfront about all fees and costs associated with our cash loans. For this reason, we offer a flat interest rate, and don't charge any fees for making repayments or for electronic transfers. While some lenders might charge you for communicating with them or for the invoices they send you, we believe that's completely unfair. You won't ever have to worry about strange fees or charges with us – that's our promise to you.
If you're ready for your quick cash loan, click on the Apply Now button and begin your application today!