Online Loans
Applying for loans online just got easier. With MyOzMoney, applying for online loans up to $25,000 is faster and more secure than ever.
The application form is super simple and fast. We also use bank statements service, Proviso, the latest in credit assessment and financial verification technology that can safely and securely access the bank statements you need to apply with us, on your behalf. If you're approved, money can be in your account within hours
Fast approvals
Our loans are unsecured, which means you don't have to provide any kind of collateral, assets, or equity to qualify. As long as your income can comfortably support your requested loan amount plus repayments , you're likely to be approved quickly and cash can be transferred to your account almost on the spot.
The entire credit assessment process also occurs online, and doesn't involve any tedious paperwork to fill out, or long interviews with credit officers – it couldn't be faster or easier.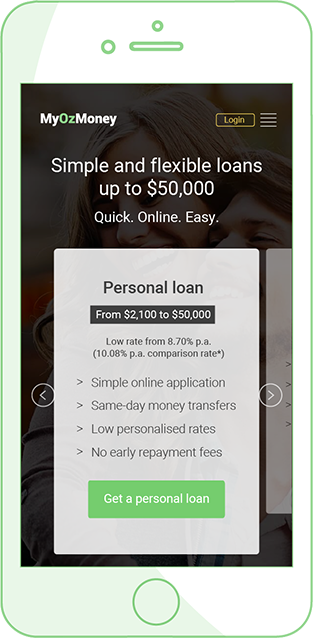 Responsible lending
MyOzMoney prides itself on being a responsible lender. Our online loans help everyday Australians when they face cash shortfalls or emergencies and need money fast. For example, our loans can be used to pay bills to avoid the disconnection of a vital service, towing your vehicle after an accident, for a boat or even as a small business loan.
We understand that ordinarily, your finances may be in good shape. But sometimes the unexpected happens and you need to borrow money. That's when you can count on MyOzMoney's fast and secure online loans.
Flexible and fair to suit you
Your loan is flexible and customised to your needs. Loan repayments can be set up automatically via direct debit to match your income deposits. This means there's less chance of forgetting to make a payment at any given time.
The best news is that we cap the total interest you will ever have to pay on a loan to 50% of the principal. So, unlike other loans where the interest can continually add up, with MyOzMoney loans the fixed interest you pay will never exceed the cap.
And what's even better is that there are no early payment fees. So, if you can want to pay your loan off early, there are no exit fees. In fact, we prefer it so you can save even more money!
If you foresee any issues making a payment on time, let us know in advance so we can discuss any adjustments.