Fast loans can help out in a number of urgent situations:
Sudden damage to your home or car

An unexpected bill has thrown out your budget

You've decided it's finally time to sign up to that course
Taking out a fast loan with MyOzMoney could have you back up and running in no time, regardless of what life might throw your way.
Need some quick cash for a personal gift?
Fast loans aren't just for expenses or bills. They can be also used to act quickly to secure a limited time only offer.
Need to purchase an item right now?

Found a limited low price for that special something you've always wanted?

Looking for a fast approval on a loan application for up to $25,000?
MyOzMoney can get you the cash you need for time sensitive purchases requiring immediate payment. Apply now and you could get cash today.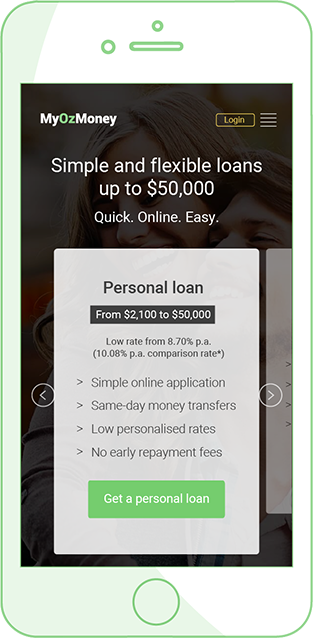 Fast loans to get you cash now
Looking for a fast loan urgently? Need to find someone who offers loans approved fast?
MyOzMoney can give you a decision on your loan application in minutes and, depending on your financial institution, your funds could be ready within the hour. Find out how much you can borrow, get your hands on a fast loan with MyOzMoney, and get cash today.
Looking for some fast cash?
The MyOzMoney loan application and approval process is fast, simple, and completely online. If you're ready for a fast loan now, use the repayment calculator or simply click on the Apply Now button and get started today.