Easy and dependable
MyOzMoney is a trusted and established loan provider in the Australian market. Because our unsecured loans are 100% online, our overheads are far lower than many other lenders and banks. This means we can pass on these savings in the form of lower fees to you, the customer.
We also pride ourselves on being transparent in everything we do. Our costs are outlined in detail on our website. Our interest rates are competitive, and our fee structure is very simple. We don't charge unfairly for items you shouldn't have to pay for, such as account keeping fees, communication fees, or late repayment fees. This is because we believe in making unsecured loans accessible for anyone who needs cash fast, without penalising you for requiring finance.
Fewer hassles and oh-so-simple
MyOzMoney specialises in providing simple and easy short-term loans for amounts up to $25,000. We don't need you to provide any assets to secure against your loan. We just want to see that after your income and expenses, you will have enough extra cash left over to comfortably repay your loan.
Our easy application process involves filling in a simple online form. All you need to provide is your personal and employment information, and approximate income and regular expenditure. We will then perform a quick check of your bank statements online via our secure software, bankstatements.com.au.
The entire application process can be performed online without printing, signing, scanning, or emailing any physical documents. It's as simple as that!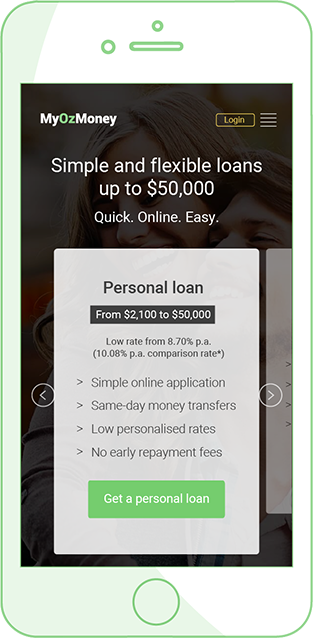 Reasonable repayment structure
At MyOzMoney, we want it to be as easy as possible for you to repay your loan. This is why we align your repayment schedule with your pay cycle – so you will be in the best position to meet your repayments on time, without any issues. Doing this helps you to avoid being hit with bank fees that can occur when payments cannot be taken from your account.