Take Control
MyOzMoney's loan repayment calculator is a practical tool that helps you take back control and choose a loan that's right for you. Whether you need a personal loan for a much-needed holiday, or a smaller loan for new household furniture, the loan repayment calculator will help you work out an ideal loan repayment plan, interest charges, and the total cost of your loan over a determined period of time.
Upfront calculations
Our loan repayment calculator is simple and easy to use. Just input your desired loan amount and repayment period. The repayment calculator will then tell you what your monthly instalments and total repayment will be for the loan, as well as the personal interest rate associated with that loan.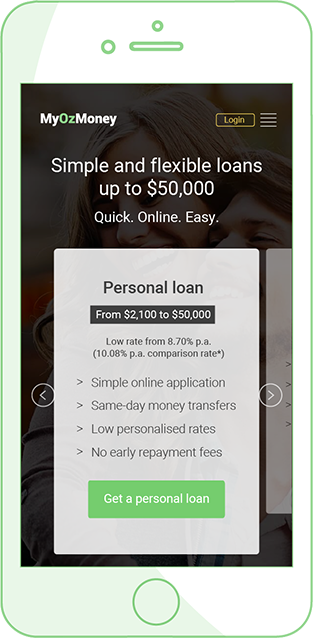 No Surprises
MyOzMoney is always upfront with you about all the fees, charges, and interest payments associated with your loan. This means there will never be any surprises, as you will always know exactly how much you need to pay. It's also one of the reasons we created a repayment calculator – so you can readily understand your various costs, and how much your loan repayments will be each month. This will help with effective financial planning, and allow you to stay in control of your own money at all times.
Fast Online Processing
MyOzMoney offers fast online processing at great rates. We understand that there are times in life where you might need that extra bit of money. We also know that you don't always have the time to wait around for cash.
Buying a gift for a loved one, performing home renovation, wanting car loans or needing money for a boat are all expenses that can be covered quickly using a flexible unsecured loan of up to $25,000.
Test whether a MyOzMoney short term loan is right for you now, with our easy loan repayment calculator. Using this free and handy online tool, you'll be able to see all of your loan costs and repayment obligations, before even submitting a loan application.