Cash Advance
Need money fast? A cash advance could be the answer.
A cash advance is a payment made to you with the agreement that you will repay the money in smaller instalments in the near future. MyOzMoney can provide you with a cash advance of up to $25,000 when you need it the most.
Read on for more information or start the application process by clicking on the Apply Now button. You could be approved for your unsecured loan within the hour if you begin right away.
Suitability of a cash advance
As a responsible lender, My OzMoney must check your eligibility for a cash advance by asking some simple information about your overall income and expenses. If you are employed with an income of at least $1,000 per month, you could get approved quickly for small cash advances. The higher your income, the more advance payment of cash you may be able to receive, depending also on your expenses.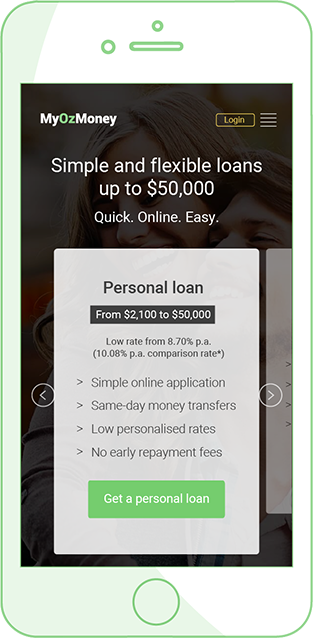 Easy and fast application
To find out if you are eligible for a cash advance, you can start the application process immediately. We will verify your personal information and access your recent bank statements electronically with bankstatements.com.au, making the process as pain free and simple as possible.
The entire application process for a small loan also only takes a few minutes. If we confirm your income can support your expenses, your loan could be approved within minutes. Once approved, if you bank with Commonwealth Bank, your cash can be transferred to your account within the hour. Other institutions could take a little longer, though generally you can receive the funds by the next business day.
Repaying the cash advance
When you apply with My OzMoney, you'll always know upfront the total repayments that will be required to repay the cash in advance. Affordable repayments will be set up to match your financial situation and salary payments, and automatically debited. If you expect any delays with your income, please inform us so that we can discuss adjustments to the repayment.
Cash can be helpful
Our customers find cash advance loans helpful in different situations:
Unexpectedly high bills from data use or overseas calls
Car or motorcycle breakdown requiring towing and urgent repairs
Unfortunate travel incidents that are not covered by travel insurance
Splurging on a spontaneous holiday or gift
Whatever the purpose, if you meet the eligibility criteria for a My OzMoney cash in advance, we can help you today – so apply now.