What could you do with $25,000?
Maybe a better question might be – what couldn't you do with $25,000? A personal loan can be used for almost anything. 
Quick personal loans
MyOzMoney may have an answer for you if you're after a personal loan fast. Powered by Proviso technology - a cutting edge fast online approval system - you may receive approval on your loan application in minutes, provided you meet the criteria outlined in our responsible lending guidelines. A quick personal loan from MyOzMoney can take just 5 minutes to apply for and if approved, money can be in your account within the hour, depending on who you bank with.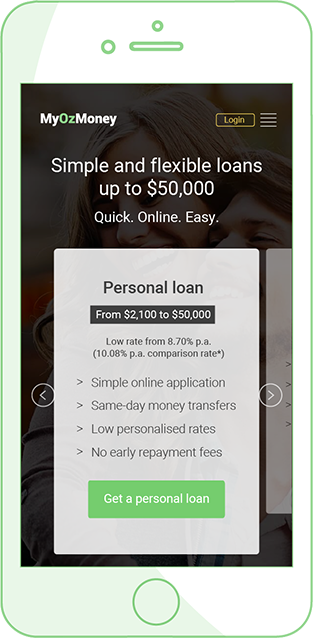 Why not treat yourself?
Need to book that holiday while the special's still on? Been drooling over that quad bike for months and just can't wait any longer? A quick personal loan could be your ticket to sun drenched days in the tropics, or a mud-splattered adrenalin high from the back of a roaring quad bike.
Loans for personal use can also help you take advantage when the price and timing is right. This means you won't have to miss out on special prices or early bird offers just because you don't have the cash. So, treat yourself to that luxury purchase you've been longing for. We can help make it happen for you without any more delay.
Get approved fast with MyOzMoney
Our fast personal loans can be approved in just a few short minutes, with money delivered in an hour in some cases. By taking out a personal loan with MyOzMoney, you can get you the cash you need, right when you need it.
No fuss, no hassle, no worries
Sometimes you can be caught off guard with an unexpected expense, or a one-time-only offer. An instant personal cash loan can take care of that on the spot.
Quick personal loans with MyOzMoney can help in these situations when you can't pass up the moment, and need cash instantly, easily, and without any hassles.
Click on the Apply Now button to get the cash you need in next to no time.