Short Term Loans
MyOzMoney makes it easy for you to get access to short term loans. We offer an innovative, 100% online application, with fast approval and same day funds transfers. We work hard to make sure the application process is quick, safe, and fully secure.
By applying directly online with MyOzMoney, you can borrow up to $25,000 without any complex or time-consuming paperwork, or going to a bank.
Easy, fast and secure application
Our proprietary and fast application process means instant cash is never more than a few clicks away.
To get started, simply submit your personal details, a summary of your income and expenses, and provide access to your most recent bank statements. No messy paperwork or tedious phone calls are required. We use the latest technology and innovation from Proviso bankstatements.com.au to electronically access your most recent bank statements. This way, we can confirm that your income can comfortably support short term finance and loan repayments so you're never in a tough spot.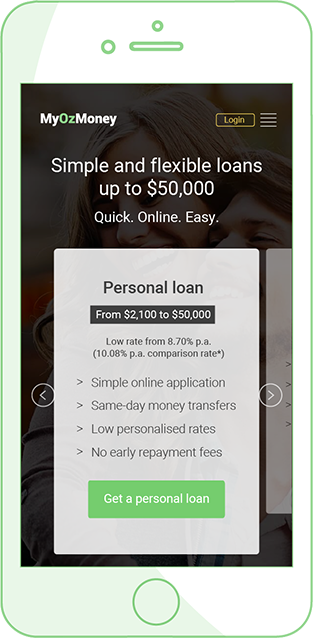 Helpful Loans
We understand that from time to time, you may need money fast to tackle unexpected expenses. A short term loan may be exactly what you need when you want to borrow money to overcome this. Our short term loans have helped customers manage many difficult everyday situations, such as:
Repairs for storm damage to the home
Unexpected car repairs or expenses

 

for a boat
Surprise purchases or emergencies while on holiday
Call us or start the application now if you are in need of a short term loan approved fast.
Loans Repayments
MyOzMoney understands the importance of transparency. That's why your loan repayment information is clear and easy to understand, so you always know exactly how much and when you need to pay. You can also use our loan calculator to determine the total cost of your loan before you apply, so there are no surprises.
Once your loan is approved, we will also make sure you understand all the fees, charges, and interest repayments associated with your loan. We believe that's how all loans should be.
Our repayment schedule is flexible and tailored to suit to your needs. Generally, a short repayment period is one month suitable for a small cash loan, however for larger amounts it can be longer.
Responsible lender
As a responsible lender, MyOzMoney is required to carry out the necessary due diligence to verify that your current financial situation can support a short term loan and interest repayments.
We are committed to ensuring that you can comfortably repay your loan, particularly as short term loan obligations are typically repaid within a few weeks. However, if you foresee any difficulties in making the scheduled repayments, just let us know in advance and we can discuss your situation personally. We will always be here for you.