Get cash loans fast with MyOzMoney
Cash loans from MyOzMoney are fast and hassle-free. Our application process is simple and 100% online so you can apply, get approved, and receive your cash as soon as you need it. It couldn't be easier or more convenient!
With so many demands on your time, the last thing you need is a long, complicated loan application process that takes days or weeks. When you need a cash loan on the spot, MyOzMoney's hassle-free online approval process is a cut above the rest.
MyOzMoney uses an innovative and fast application process to cut down the review and approvals process, so the cash can be in your account within an hour, depending on your financial institution.
Fast and easy cash loans to help with the unexpected
MyOzMoney cash loans are perfect for dealing with life's little unexpected costs. When cash is tight but there are bills to pay or opportunities that you just can't pass up, we can help.
With MyOzMoney's fast and easy loans, you can access up to $25,000 to cover sudden expenses like car registration and insurance, or an emergency that can't be postponed.
So, don't waste time asking family and friends for money – with MyOzMoney you're always in good hands. Use our helpful loan calculator to determine your total loan costs and calculate repayments. That way you can always be sure you will be able to repay your loan.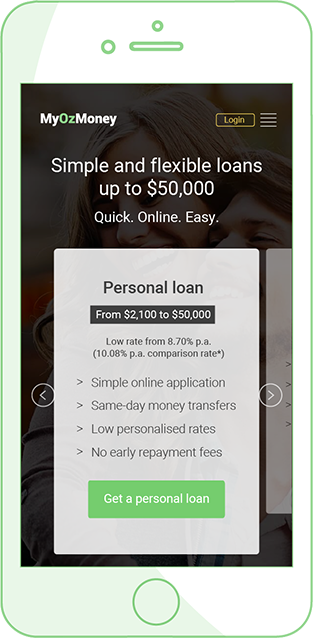 The times a MyOzMoney money loan can be helpful
There are many times when life comes at you fast. And when this happens, you sometimes need to act immediately. Thankfully, with MyOzMoney, help is only a click away for anything you might need:
Buying that road bike you've always wanted for a cost-effective way to get fit
Paying a late bill to avoid a disconnection
Covering the rent, bond, or your moving costs when the landlord gives you a notice without warning
Emergency storm repairs that come out of nowhere
Turn to MyOzMoney when you need to be approved for a fast, simple cash loan. We're a responsible lender, so make sure your income can support the loan and your schedule repayments.