Need Money Fast?
Sometimes everything can feel like it's on track, then all of a sudden you're hit with an unexpected bill or expense. It could be that you've experienced unexpected damage to your home, or that your car decided to break down suddenly, and the problem is bigger than you thought. It could even be an emergency medical bill that needs to be paid as soon as possible. However, an unsecured personal loan will help you in all of these situations and more.
Using MyOzMoney
Taking out an unsecured personal loan through MyOzMoney doesn't require putting up any security as collateral for the loan, such as property or a vehicle. This means much less paperwork, making it an extremely quick and simple process to complete your application. All we will ask for are your personal details, employment status, income, and expenditure. We will then analyse your ability to repay the loan, in a fast and easy process that is conducted all online.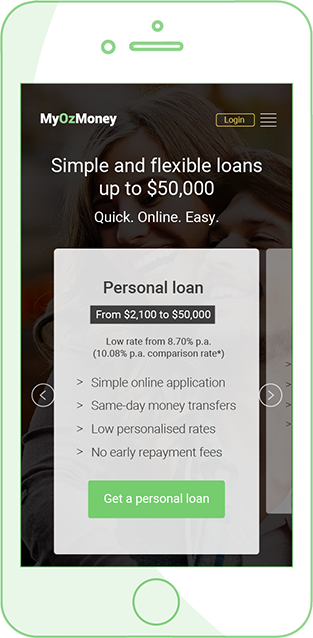 How To Apply?
You can apply through our easy online application process. Simply enter the loan amount, and loan term to understand the size of your loan repayments, and the total loan amount you will be required to repay. If you are happy with these amounts, you can click 'apply now' to get the process started immediately. If you have any queries along the way, you can also contact our hotline and speak with one of our customer service representatives at any point.
Responsible lending
At MyOzMoney we pride ourselves on responsible lending. This is why we are upfront about all charges, fees and interest costs you may incur while repaying your loan. This means you will never be faced with any hidden surprises.