Get to Know Your Finances
When looking to borrow money, it's important to understand the total interest, fees, and charges associated with your loan, and how much this will all add up. That's where our clever loan calculator comes in.
MyOzMoney's loan repayment calculator helps you to accurately assess your borrowing power by estimating the total interest costs and repayments over the life of your loan, and how much instalments will be. This way, you can confidently prepare a budget, and plan ahead.
Temporary Assistance for Large Purchases
If you're thinking about applying for a small personal loan to make a large purchase, our finance calculator is the first step in helping you get a clear picture of your total financing costs.
You might be wanting to borrow money for a boat or even get a loan for business. If this sounds like you, our online interest calculator can help you determine the total financing cost.
Our online loan calculator allows you to input the desired borrowing amount and quickly calculate the interest and fees associated with all the repayments. You can then compare these costs when any other loan offers or even determine if you need to adjust the desired amount.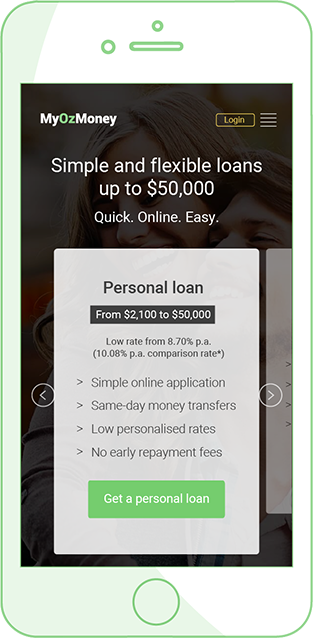 Loan calculator tool for cash loans
If you're considering applying for a personal loan with MyOzMoney, it always pays to use our loan calculator tool before applying. Doing so will help you to clearly understand your obligations and repayment schedule, so there will never be any unpleasant surprises later on.
Because there are no hidden fees, you can always be confident that you can repay you're MyOzMoney loan before you've even begun to apply with us. So, what are you waiting for?