How to compare personal loans?
When comparing personal loans from different lenders, the most important questions you should ask are:
How much do I want to borrow and how soon do I need the money?
How quick is it to apply for a loan?
How long does it take for the lender to review my application?
How fast can cash be sent to my bank account?
What is the loan interest rate?
What are the repayment terms?
What are the establishment costs and the late payment fees?
What is the customer service like?
Can I speak to someone if needed?
Compare personal loans now
The MyOzMoney Personal Loans Comparison Page compares personal loans from a range of financial institutions, including MyOzMoney. This is so we can help you to quickly work out which personal loan is right for you*.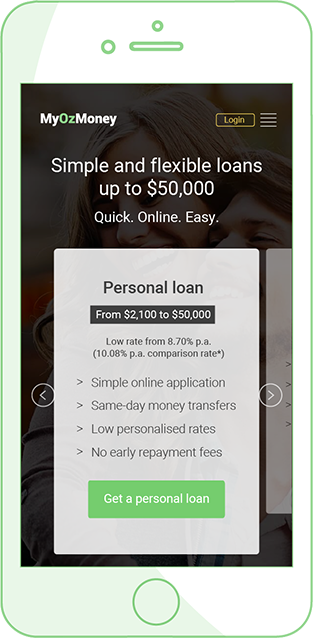 Loan amount comparison
The first step to comparing loans is to choose the amount of money you want to borrow.
With MyOzMoney you can borrow up to $25,000 quickly online, for anything from a loan for a business, a car or home renovation. Your loan decision could be ready in a matter of minutes and your funds transferred within a matter of hours. There is usually no need for time-consuming paperwork or physically heading into a branch.
For amounts over $25,000, larger banks could be a better option. You may be required to provide more financial and personal information, including evidence of income, more paperwork, or personally meeting with a credit officer. Approvals can be more difficult, and can often take days or even weeks to be confirmed.
Loan application comparison
Personal loans from traditional financial institutions usually require you to complete a number of different steps before you can be approved for a loan. In comparison, MyOzMoney has a highly streamlined and quick online application process. We also conduct a secure online check of your recent bank statements and, once you've completed your application, you can receive approval within minutes and funds in your account within the hour (depending on your bank).
Loan approval comparison
Online lenders typically provide unsecured personal loans. There's no need to nominate a guarantor or to put up collateral to get approved for the loan. Instead, your income and expenses are assessed on their own in a few short minutes to see if you can comfortably repay the borrowed amount plus interest. And because online lenders often use sophisticated credit assessment technology, you may be approved in minutes. they can often provide you with an answer in just a.
Loan repayments comparison
Personal loans from traditional financial institutions, such as banks or credit unions, often require a great deal of maintenance. You may need to keep on top of repayment requests, and manually transfer the repayments on a regular basis.
With these traditional institutions, sometimes there are hidden fees that are not immediately apparent. If you make additional or late repayments, or request extra statements or information, you may need to pay additional fees. Some lenders even charge you for communicating with them, such as for a phone call, fax, letter, or email. If you are late in making a repayment, there could also be additional costs or charges.
MyOzMoney on the other hand, lets you calculate the total loan amount you'll need to repay from the very start. Because your interest is capped, you can't accrue interest charges no matter how late the loan is repaid.
Repayments are also automatically debited from your nominated bank account to match your salary deposits. MyOzMoney doesn't charge for communications, and you can check the status of your loan directly online.
In summary:
MyOzMoney – Online login, automatic deductions, minimum fees for managing accounts, capped interest costs.
Banks – Email or document invoices for repayment, manual deductions, fees for extra repayments or communications, interest is accrued daily without limit.
For more information about personal loans, you can click on FAQs or use the Quick Start button to instantly apply for loans.
*Please note that MyOzMoney is not authorised to provide financial advice that relates to your specific circumstances. Any information we provide is only general in nature, and does not constitute financial advice. We cannot guarantee the accuracy, adequacy, reliability, completeness and timeliness of information we provide relating to other providers. If unsure, we recommend that you seek independent advice before applying for any product, or commit to any plan.