Wedding Planning
If you've been dreaming about your wedding day since you were a child, you may already have thousands of ideas about what the big day will look like. Planning for the real thing, however, often reveals that all of your great ideas can come with a hefty price tag. It's also common to encounter unexpected costs, and all of these costs can quickly add up. When you simply can't compromise, you may find a wedding loan to be very helpful in this situation.
Things to consider
There is so much to consider when planning a wedding, including a venue, catering, entertainment, flowers, suits, and of course the all-important dress. All of these details can come at a significant cost, and it is almost certain you will need to make some compromises to fit everything into your budget. For those things you can't compromise on, a wedding loan can help. Borrowing money to pay for part of your big day allows you to spread the cost over one to three years in more affordable instalments. Even if you have your wedding day covered, there is always the issue of the honeymoon. This is where a holiday loan can come in handy.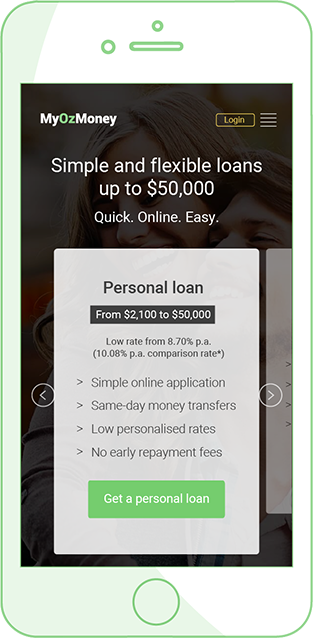 Easy application
At MyOzMoney, you can apply for loans up to $25,000 quickly and easily online. Our simple application process takes just five minutes to complete, and there is no time-consuming paperwork to fill in. We also assess everything electronically and use bankstatements.com.au, a secure online checking system, to view 90 days of your bank statements. This means you don't even need to gather up your payslips for us. We will give you an answer in a few minutes once you've applied. And if your loan is approved, the money can be in your account within the hour, depending on your financial institution.
Less stress
A MyOzMoney wedding loan comes with flexible repayment options. We can arrange to have your repayments taken from your account automatically via direct debit in line with your income cycle. This means there will be one less thing for you to worry about in the lead up to your wedding. We also disclose all of our fees, charges, and interest rates that are fixed up front, before you accept our loan offer. There will be no hidden charges later on, so you know exactly how much you will need to repay. Note that this loan is basically a personal loan that is unsecured. This means the money borrowed can be used to pay for anything relating to the wedding preparation, honeymoon, or anything else you heart might desire.