Small cash loans to go
If you need cash on the spot, look no further than small cash loans from MyOzMoney. You can borrow up to $25,000 for anything you need, fast.
If you meet our straightforward credit criteria, you can be approved in minutes and have the money in your account within the hour. The benefit of small cash loans is that they can be processed quickly and without all the paperwork.
So, the next time you find yourself in jam, small cash loans from MyOzMoney may be just what you need. See how much you can borrow today!
Happy customers
There can be many reasons why you might need money quickly. At MyOzMoney, we want to make it easy for you to borrow cash. We've engineered our lending platform to make it faster for you to access small amounts of money in a hurry because sometimes, unexpected things happen.
Our customers have found our small cash loans to be extremely useful in unexpected situations such as:
Urgent repairs or towing for car or motorbike
Unexpected expenses while travelling on holiday
Impulse purchase
Treating your significant other to a luxurious gift to make it extra special
Unexpected storm or weather damage that requires immediate repair
Being able to face these situations head on with no worries at all, has made for a lot of very happy MyOzMoney customers!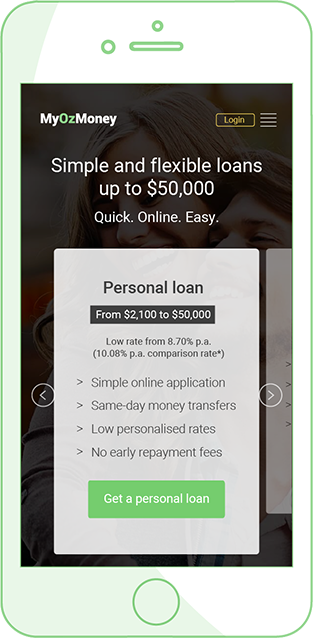 Competitive and fair
Our borrowing costs and fee structure is highly competitive and extremely transparent. You can use our personal repayment calculator to estimate the total cost of your interest repayments, so you can plan ahead. We also help you plan your repayments to line up with your pay so that you're less likely to miss them. And with fixed interest rates, you'll always know how much you need to pay – it's just that simple.
Even if you get into a difficult situation and you think your repayments might be delayed, your total interest will be capped. Just let us know in advance and we can arrange a payment plan convenient to you.
Easy loan application and repayments
We ensure the application and repayment process is as convenient as possible, and your loan can be approved as quick as a few minutes. Once approved, funds can be transferred into your account within the hour if you have an account with Commonwealth Bank, though other financial institutions can take longer.
Apply for your small cash loan now and you could have money in your account soon. What are you waiting for?