Cash Loans Online
With MyOzMoney you can borrow up to $25,000 by applying for cash loans online. The online application process is fast, easy and completely secure. Once you're approved online, your cash advance can typically be transferred to your account within the hour, depending on your financial institution.
We make lending easy
When you need a small loan fast to pay for unexpected expenses, you could go to a regular bank and wait days, or you could apply for a cash loan online with MyOzMoney. The experience is completely hassle-free and fast, meaning you could have access to cash in advance in no time.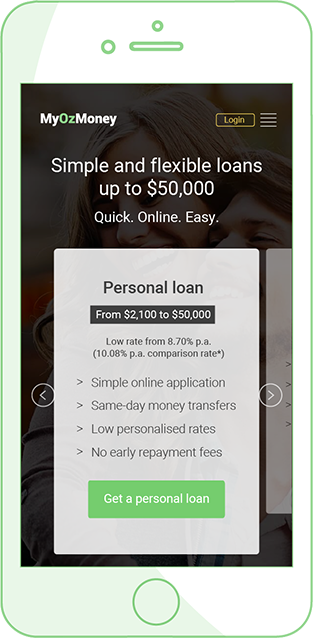 Secure online application
Our application process requires you to input some simple personal information, as well as an estimate of your income and expenses. This helps us determine your ability to repay the cash loan comfortably and easily. However, provided you are employed with regular income, this step should be a breeze. We also rely on Proviso technology to check your bank statements automatically, and confirm your financial information with little effort on your part. This helps your short term loan to get approved online faster.
You don't need to wait for money
With MyOzMoney, it has never been easier to access cash online, without having to wait. We have worked hard to develop an innovative digital application process to help you get cash fast.
Once you're approved for the loan and you agree to the terms, we'll transfer the cash online to your nominated bank account. If you have a Commonwealth Bank account, your funds can be transferred to you almost instantly, though other financial institutions may take a little longer.
Completely transparent and fair
We're completely transparent about our fees and charges, so you always know how much you need to repay. Setting up your repayment schedule is also flexible. When you apply with us, we will ask you to nominate how often you receive income, so direct debits can be set up in line with this to make your loan repayments as predictable as possible.
You can also use our personal loan repayment calculator to plan your repayments before you start your loan application. What's more, your loan will have fixed interest rates, so you will always know how much you will have to pay.
And if you ever think there could be an issue with making future payments, just let us know in advance, and we can review your loan repayment plan. Don't worry, we're also real people, and very fair!