Our easy online loans application takes you less than 5 minutes to complete and submit and customers who apply during our business hours typically receive a response within the hour. We offer easy online finance across Australia so you can apply online for personal loans in Sydney, Melbourne and Brisbane, as well as anywhere else in Australia.
How do student loans work?
School loans are personal loans in Australia that are paid out to loan applicants upon approval. You receive a lump sum payment that you use to pay for your fees or study expenses and then you repay that amount over a fixed period at a fixed interest and monthly repayments. You can use things like a personal loan calculator to check what kind of payments you are most likely going to be making and how they can be budgeted into your new living expenses. If you're a full-time student then using a student loan repayment calculator is a great way of planning ahead as you likely won't be able to work full-time hours once your study commences. Tools like a personal loan repayment calculator also help to show you how much interest is payable over your loan term, so you know the difference between the principal amount and the interest you have been charged.
Personal loan interest rates can vary depending on the loan amount that you're looking for and what your loan is going to be used for. Your interest rate will determine the repayments you make and may affect the loan term that you ultimately choose to take. Choosing a longer loan term will help to lower monthly repayment costs and take the strain of managing off short term living expenses.
How much can you get in student loans?
The first thing you will ask yourself when you start any loans application process is: how much can I borrow? You may find that when you initially apply for a student loan, you may not be able to receive the entire amount that you need straight away to cover your tuition bills. If you don't have a very strong credit history – either because you are quite young and haven't built up a credit experience or because your credit file is less than ideal – this will affect the loan amount you are offered upon approval of your personal loan request and the interest rate that you will most likely be charged.
In this case, we suggest taking out some of the quick loans like our mini loans and small loans we have on offer that are short term loans for smaller amounts than your total tuition cost. Taking out small same day loans from MyOzMoney will help us get to know your credit profile and learn what kind of credit customer you are. You can take our cash loans for small amounts and once they're repaid with a solid and reliable repayment history, we can adjust what amounts of credit we can approve you for and revisit the fees we offer. By first demonstrating to us that you're ready to move on to a larger student loan, you are more likely to be approved for closer to the amount that you need.
For anyone looking for more flexibility, consider our line of credit option. A quick cash loan from MyOzMoney pays your total loan balance upfront and directly into your bank account. You then repay this amount in manageable instalments over your nominated loan term for fixed repayment amounts. You aren't charged an early termination fee if you want to close out your loan balance early and avoid paying more interest. Or you can choose a line of credit and get approved for up to $15,000. Like a credit card, you use only the credit funds you need and then repay them either upfront or over time. You can use your line of credit over and over again, as often as you like. You cannot redraw against personal loans.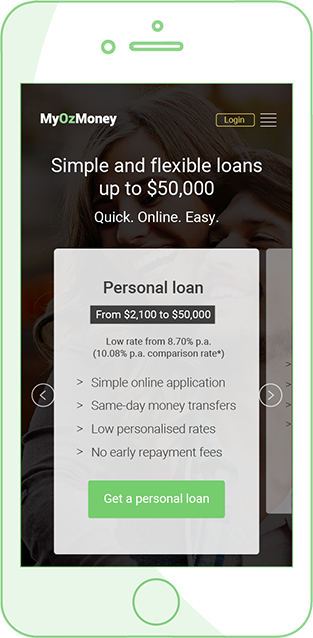 Can I get a student loan without a job?
As a credit provider that believes in responsible lending and holds an Australian Credit Licence, eligible loans customers must be at least 18 years old, a resident of Australia and currently employed.
How to refinance personal student loans?
We can help customers with a range of loan products beyond student loans like rent assistance credit options and bond loans for helping to cover the cost of moving and associated expenses. Our fast cash loans are available to use as consolidation loans too, helping you refinance your credit to avoid high interest and other associated fees. If you're looking to refinance an existing loan, apply online for the total loan amount that you need to discover what rate you'll be approved for and compare your options.
Apply online with MyOzMoney for fast and easy student loans. Get approved today and start studying sooner with our help.