There are no unnecessary phone calls and we typically don't need to speak with our customers at all throughout the application process.
Where to get express loans in Melbourne?
We service all of Australia, as a wholly online money lender. We offer personal loans in Melbourne, Sydney, Brisbane and beyond. Complete and submit an online loans application form via our website in less than 5 minutes. To qualify for a loan from MyOzMoney of any kind you need to be currently employed, a permanent resident in Australia and you need to be at least 18 years old.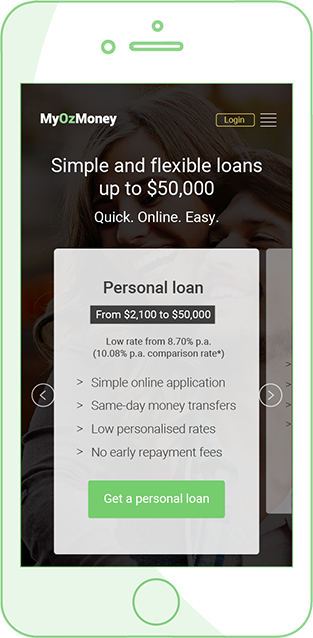 How do express loans work?
We can help you with express loans and short term loans that mean you have instant access to that extra cash you need right now. If it's not an unexpected life event or expense to be paid, then your loan might be for something a bit more considered, but that you have to act fast with. Maybe you've found your dream car and it's only available at a really great price for a short period of time. Our express loans can help you with the funds you need to get behind that wheel sooner rather than later.
Loan balances are available from MyOzMoney for small loans starting at $2,100 up to larger personal loans of $50,000. Once approved, you receive a lump sum cash payment for the full loan amount and then begin slowly repaying your loan for your nominated loan term. Available terms from us start at 12 months and are available for up to 5 years.
We believe in responsible lending and easy finance. Our express loans are designed to help people get access to fast cash into their bank account as soon as possible, they're not designed to make credit situations worse. Although borrowing money to help with managing debts and bills can be a really helpful way of knocking a few expenses on the head, it can also worsen your cash flow problems.
For renters, coming up with instant cash for a relocation can be a hard slog. There are cleaning fees, removalist fees, fumigation fees, the bond and then the month's rent in advance. You're usually still paying rent on your old location while you're moving, so you're effectively paying twice the usual amount. Those moments can seriously dent your living expenses. Our express loans give you breathing space. You can pay your bond and moving costs back with a fixed repayment schedule that doesn't hurt your weekly living any more than it should. Besides, there's all that new furniture you need for the new place and you want funds for that.
If you're looking for express loans to help with managing bills then we suggest using our personal loan calculator to give you a rough idea of how monthly or fortnightly repayments will affect your current cash flow health. Most online calculators will preload a standard interest rate. Our fixed rate loans may differ slightly from the preloaded rates in our calculator but generally you can get a good idea of how an express loan might help your current situation and open avenues to refinance later down the track.
We also offer other credit products like our line of credit option which might be better suited to what you need. A bit like a credit card, the MyOzMoney line of credit offers you access to up to $15,000 in pre-approved credit balances. Transfer the quick cash loan you need when you need it. A minimum transfer amount of $100 applies.
How do the repayments work for express loans?
When you get approved for any of our quick loans, you will receive a loan contract detailing all fees and charges, the total cost of the loan as well as your repayment amount and repayment schedule. Repayments are directly debited from your bank account. All of our fast cash loans are fixed rate loans which means you know what your repayments will be before you sign your contract.
If you are in a position to repay your loan balance ahead of schedule, then you can do so with us and not have to pay early termination fees. Repaying your loan sooner limits the amount of interest you must pay. Interest rates are the charges associated with borrowing money. All money lenders offer finance at either a fixed or variable rate of interest. All finance products from MyOzMoney are fixed rate credit products so your interest rate does not change for the term of the loan.
Interest is charged as a percentage of the total quick cash loan amount, reducing over the term of the loan until you are only repaying the principal amount (the amount you originally borrowed). Repaying your loan earlier means that you reduce the amount of interest charged and therefore enjoy a lower cost finance product.
Apply online for express loans from MyOzMoney to discover how much you could be approved for.