We are focused on supporting Australian startups
At MyOzMoney, we aren't new to helping Australian startups get off the launch pad and bring their product to market. We have worked with hundreds of innovative new startups to provide the funding required to take their dreams beyond the idea phase. Whether it's funding research and development, purchasing a new piece of equipment, or financing the first several months of employee wages, our suite of new business loans is designed to help bridge the financial gap.
We have worked with mobile app developers, restaurants, manufacturers, and almost everyone in between. Do you think you have the next big innovation? We may be the perfect partner to provide the financing needed to commercialise that exciting idea. If you are looking for a startup business loan – or considering the options – we invite you to explore how we are simplifying the process of finding a loan for new business.
A simpler way to borrow
Here is the reality: getting a loan to start a business can be a serious chore when working with traditional banks. The process is time intensive, fraught with paperwork, and many traditional lenders may simply say "no" after you complete the process. Your time is valuable and is better spent on doing what you do best – refining your project and preparing to bring it to the masses.
At MyOzMoney, we are bringing commercial loans and business loans into the digital world. Our process is completely online and lightning fast. In many cases, your loan can be available within a matter of hours.
How we accomplish all of this is pretty simple. Just let us know how much you'd like to borrow, your preferred repayment period, and a simple breakdown of your firm's income and expenses. With this information, we can find the right loan for you and your growing business. Skip the big banks and explore a new way to fund your startup, small business, or mid-sized firm.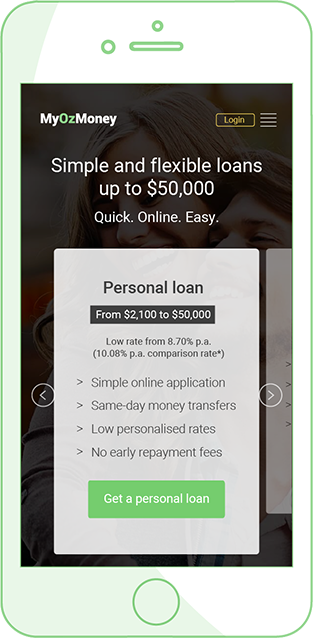 Startup loans vs finding investors
Many of our clients use startup loans rather than outside investors so that they remain in control of their growing company. When you sell shares to raise capital, you gain outside influence, lose control in your growing company, and have shareholders who demand a return. A startup loan can simplify the funding process by allowing you to borrow money, manage your firm as your see fit, and remain in control of the entire process.
Click here to see our suite of loans which have been designed for Australian startups.