The process of getting a business loan is changing
In the olden days, getting a business loan meant going down to a local bank, filling out lengthy application forms, and waiting for the bank to approve the terms of the loan agreement. This process could take days, and sometimes weeks, from start to finish. Sometimes, after jumping through hoops and waiting on pins and needles… the answer from the bank is still no. Major bummer.
For many business owners, this is simply too long to wait to determine if business loans or a line of credit is going to be available. If you find yourself in this situation, it is time to explore how our platform and technology is changing the way that business owners access credit. Our goal is simple yet audacious: to streamline the entire process of getting a small business loan.
You are in control
At MyOzMoney, we put you in control of the entire process. Our web-based lending platform allows you to set up an account, request funds, and see the progress of your loan application from anywhere you have internet access. Our platform is designed with speed in mind, and in some cases first time borrowers will have access to a line of credit within hours.
How can we turn around loans this quickly to customers? When you apply for a business loan with MyOzMoney, the entire process is online and determined by our advanced, proprietary lending algorithms. At long last – you can forget about the paperwork and administrative headache of working with a traditional business lender. Our entire loan process only requires you to provide the amount you'd like to borrow, your preferred repayment period, and some basic information about your company's income and expenses.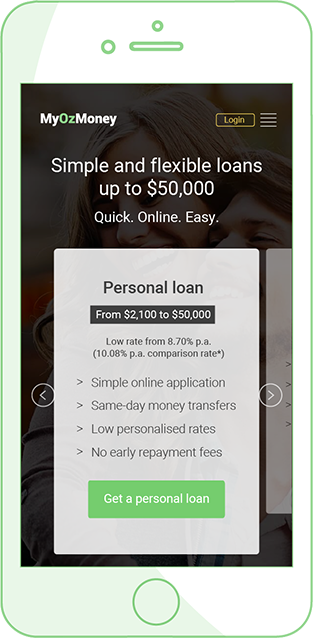 How customers are using the funds
We work with all shapes and sizes of Australian businesses, from the small business down the street, to internationally-recognized firms. Our customers are using the funds from a MyOzMoney loan to purchase raw materials, build new office space, and make investments in technology that can streamline their operation and increase sales. When things get tight (as they can from time to time in any business), a MyOzMoney loan can help you keep employees paid and the lights on.
Regardless of the type of business you are in, here at MyOzMoney we are positioned to provide full service lending services backed by a best-in-class web portal. Click here to see how we are changing the landscape for commercial loans.