Where to get quick cash loans in Australia?
Apply online for personal loans in Sydney, Brisbane and Melbourne, as well as anywhere else in the country. We service all of Australia with easy finance and fast applications.
Customers with MyOzMoney enjoy a completely online application process that takes you less than 5 minutes to complete and submit. You'll be asked standard questions about your current financial situation, then you'll be asked to log into your online banking portal. We receive a read-only 90-day transaction statement directly from your online bank and we use this statement to verify your application details instantly. This is how we have reduced the hassle of paperwork and supporting documentation usually required for online lending.
When you're happy with the fast cash loans offer that we have made you, you sign and accept your new personal loan contract online too. Depending on who you bank with and the amount of your loan, funds are received either the same day you return your loan contract or the next business day. This means that you could be approved and have your quick and easy loan funds in your bank account and ready to use all within the same day of your application.
To apply for our quick cash loans, you'll need to meet our lending criteria. Applicants must be at least 18 years of age, currently employed and a resident in Australia. When you're ready to fill out your application form, have all of your details ready including your employment details, identification documents, and your online banking details.
As part of the application process, we will run a credit check and evaluate your credit report. With MyOzMoney, we actually assign you a special MyOzMoney credit score which determines things like your line of credit and the offer we will make you for an unsecured personal loan. The higher your score, the lower the fees you will pay on your loan. For every fully repaid loan from MyOzMoney, your score increases reflecting your value to us as a customer and helping you secure higher loan balances and lower fees on future credit products with us.
How to access quick cash loans?
Quick cash loans are transferred as a lump sum payment directly into your bank account that you can access immediately. Our selection of cash loans includes small loans ideal for covering moving costs, including setting up your new home, covering the costs of removalists, end of lease cleaning and new connections. Roll all of your moving expenses into a single short term loan that you could have within the same day as your application and secure a new rental property faster.
Our quick cash loans can also be a great way for managing bills and debts. Utility bills have a bad habit of all arriving in the same month. If you have a vehicle and need to cover registration costs, mechanical repairs, new tyres, etc, then coming up with some ready cash in time can be a struggle.
With MyOzMoney, you could have approval for quick loans of up to $50,000 within minutes. We can help you to secure student loans and university loans as soon as you're approved for your course as well as school and college loans to cover school fees.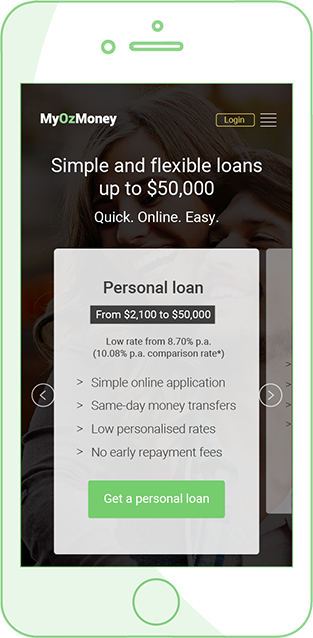 How do the repayments work for cash loans?
Our fixed rate loans mean that it's easy to budget for repayments. To work out what kind of repayments you will be looking at for your ideal loan figure, use our online personal loan calculator. These tools are a great way to break down the fixed interest rate and exactly how much interest you will be paying over the term of your loan. Typically, fees and charges, like loan establishment fees, are rolled into the principal loan amount, so ensure you include them in your calculations. A loan calculator can also show you what you can comfortably afford to repay and give you an idea of the approved value of quick loans available to you from MyOzMoney.
Our personal loans can also be used for things like renovations or your big life events like a wedding or the purchase of a new car. For a more flexible credit option, consider applying for our line of credit instead. Like a credit card, this option offers you access to up to $15,000 in pre-approved credit funds that you can transfer directly to your own account when you need to. Minimum transfer amounts of $100 apply. Repay your used credit in one go or slowly over time. Once your credit funds have been repaid, they become available to use again instantly. Online loans from MyOzMoney do not offer you a redraw facility.
Apply online today with MyOzMoney for our quick cash loans from $2,100 up to $50,000 and get approved minutes.