Get Instant Cash Loans Now
In today's world, money needs to move fast. That's why instant cash loans from MyOzMoney can make all the difference.
MyOzMoney's instant cash loans are perfect for helping you deal with the unexpected.
Faced with sudden car repairs or want to go on a holiday? Get access to instant cash today and stop worrying.
Once you complete our simple loan application, it will be reviewed within minutes. Our fast approvals process means you will have a confirmation within the hour and access to your cash almost instantly. It couldn't be easier or faster!
Need money fast?
With instant loan approval, MyOzMoney could have your funds deposited in your account within the hour. In some cases, it can take a little longer depending on your financial institution. But you should typically have your money by the next business day at the latest, so long as you have filled out the simple online form correctly.
Before beginning, you can even use a repayment calculator to find out exactly how much you can afford, and what the total cost of your loan might be. This means you can always be sure you can afford the loan before you even begin to apply.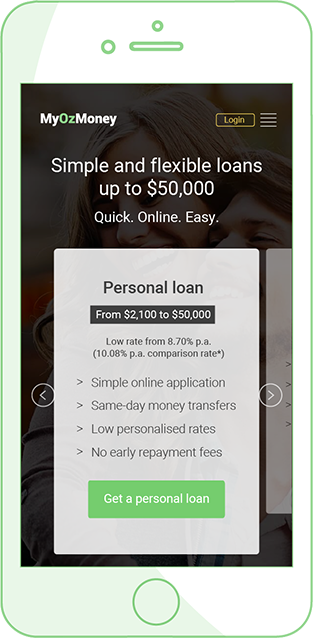 Found yourself in a spot of trouble?
When unforeseen expenses or opportunities pop up and cash flow is tight, MyOzMoney small loans can help. If you're looking for an instant cash loan to secure those pre-sale tickets or book that cheap flight, we can help out instantly.
MyOzMoney instant cash loans can be perfect for any number of everyday situations:
Moving house and need to hire extra movers or packing material?
Faced with unexpected costs while travelling with your family and friends?
Your car broke down and you didn't plan for towing or repair costs?
Want to spoil your loved one or even yourself with a surprise gift?
MyOzMoney is a responsible lender. We don't recommend spending beyond your means or borrowing money if you can't afford to make the scheduled repayments. But if your income supports your liabilities and you can comfortably meet the repayments with interest, MyOzMoney can approve you on the spot and help you with a personal loan today.