Breaking down the difference
While every business wants to be cash-flow positive, the reality is that revenue can fall short from time to time. If bills are due, you may need an operating loan to help keep the lights on and to pay employees. For businesses which operate in highly cyclical industries, this type of loan can be especially important.
Investment loans are more long-term in nature, and are generally used to make major purchases that the business needs to take the next big step in their evolution. This could be the purchase of a key piece of equipment, or even to build a new office building from the ground up. For smaller companies, buying computers, printers, and office desks could be purchased using an investment loan.
Both of these types of business loans are very common within the corporate world. Business owners are wise to consider how debt financing can be a part of their company's growth strategy, as a business loan can be a great way to set your business up for success.
Secured and unsecured loans
With both investment and operating loans, you will find some loans are secured while others are unsecured. The term "secured" means that the loan is backed by a physical asset. This could be a vehicle, office building, land parcel, or even partial ownership in the company. In the event that you cannot pay back your loan obligations, the lender may have the right to take possession of the items securing the loan. "Unsecured" loans don't have any collateral tied to them, so there is no risk to any of your assets if you can't repay.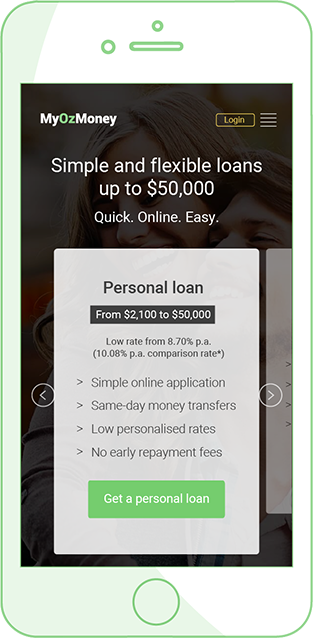 What we provide
Whether you are looking for an operating loan or an investment loan, at MyOzMoney we specialize in providing unsecured business loans to Australian firms. We understand that you have a lot of options to choose from when finding a lender, and that is why we have made our lending process as fast, secure, and transparent as possible.
When it comes time to receiving a quote, all you need to do is provide the amount you would like to borrow, the length of time you would like to pay back the loan, and some basic information about your firm's income and expenses. We don't require a credit rating and your data is completely secure throughout the loan application process. In fact, our online portal uses the same level of encryption found at commercial banks.
Click here to learn about the types of loans we offer to Australian business and to see how quick, simple, and easy it can be to receive funding.