We understand the needs of
 


small businesses

We work with many small businesses that have had trouble getting financing from traditional brick and mortar banks. Especially if you are looking for new business loans, many banks may be hesitant to underwrite business loans to new companies which have not yet established positive cash flow or do not have collateral to back up the loan agreement. The problem for many small business owners is that it can be challenging to establish positive cash flow or acquire this collateral without initial funding from a lender.

It's the classic dilemma of which came first: the chicken or the egg?

We understand this dilemma, and are focused on providing business loans for small business across Australia. Our small business lending team has created an online loan product that will give you the small business funding that is right for you and your growing operation, when you need it most. Providing Australian business owners with competitive small business loans is a cornerstone of our business and we strive to keep the process fast, transparent, and affordable.
Access cash fast for your growing business at competitive rates
At MyOzMoney, we specialize in helping you get small business loans online. Simply input the size and term of the loan you are looking for, and a few personal and bank details. With this information, we can provide a detailed breakdown of the type of loan we can provide and the loan interest rates which are available.
Our mission is to provide a transparent process and competitive rates to each and every one of our clients. We know that if we can knock the ball out of the park for you and your business, you will continue to use our services as your business continues to grow.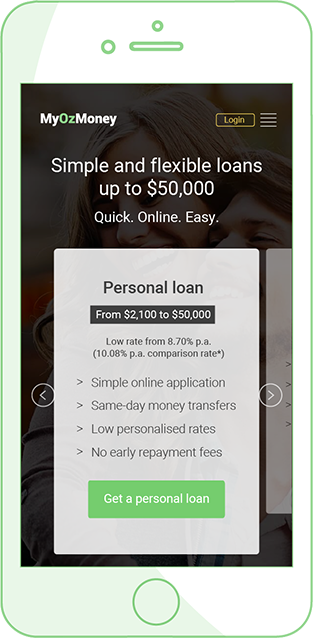 How small businesses
 


use this funding

We work with businesses across the spectrum: from family-owned bakeries to expanding construction companies to that t-shirt line you've created in your side hustle. Sometimes, these businesses have an established customer base, but need small business financing to help bring their operation to the next level. Other times you may be just starting out, and need the cash as a launching pad.

You can use small business loans from MyOzMoney to purchase equipment, pay employees during the expansion process, or cover first and last month's rent at a new office building. Any financial need you have can be covered using our suite of small business loans – regardless of who you are or what you are bringing to the table.

So take a look at how much you can borrow today – and the sky really will be the limit.