Interest rate basics
Whether you are looking at student loans, home mortgages, or business loans… interest rates are everywhere. In simple terms, these interest rates show how expensive a loan is. This interest rate is almost always quoted as a percentage of the total amount borrowed, and can vary widely depending on the type of lender you are working with, and what type of credit rating you have. In general, borrowers that can prove they are able to pay back a business loan will receive lower interest rates. Conversely, businesses that cannot prove they will be able to pay back the loan on time may receive higher interest rates from a lender.
The reasoning here is simple: if the borrower is more likely to pay back a loan, the loan is less risky for the bank. As a result, the bank can "charge" this borrower less. For risky borrowers, the bank needs to "charge" more on these loans. The "charge" to the customer for a loan is shown in the interest rate.
Why borrow for business?
Australian businesses borrow money for a wide variety of reasons. They may be looking to expand their operation and need additional cash. They may be looking to buy a new office building that can accommodate their growing work force. They may even be looking to pay off existing debt which has sky-high interest rates.
Today, business loan rates are near historic lows right now. This means that if you borrowed money five, ten, or 20 years ago – you can probably refinance your outstanding loans today at a lower business loan interest rate. "Refinancing" is just financial jargon for a pretty simple concept – paying high interest debt off with new, lower, interest debt.
Whether you are a small business or an international commercial business, MyOzMoney is here to serve your firm's borrowing needs. We pride ourselves on providing a transparent lending process which can provide your business with cash in a matter of hours. Skip the red tape at the big banks and explore how we are revolutionizing the world of commercial lending.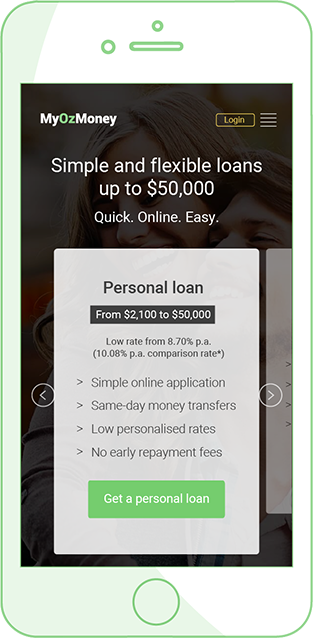 How we work
Our model is pretty simple. Just let us know how much you'd like to borrow, what interest rate you are looking for, and some basic information about your company's current income and current expenses. Don't have a credit rating? Haven't borrowed before? Don't worry – we only look at your firm's profitability in issuing new loans.
Click here to explore the lending options we have available today.