How MyOzMoney works
It's cliché because it's true: time is money. For today's business leaders, access to unsecured business loans at lightning fast speeds is paramount. Missed funding can mean a missed opportunity or leaving a service provider high and dry when bills are due. These are both situations that business professionals cannot afford to encounter. The good news is that we are tackling these issues head on, and changing the way in which business loans can be applied for and received.
Discover our platform
MyOzMoney was built with speed in mind, and is changing the game when it comes to how Australians access fast business loans. How do we do it? Well the process is relatively simple.
Step one is automating the entire process. When you apply for a loan using our best-in-class online portal, you are harnessing years of web development and underwriting experience. This combination of banking prowess and cutting-edge technology has created a lending portal which cuts the red tape and provides customers with fast cash when they need it.
Step two is to cut down the information that is required from you, our valued customers. When you apply for a loan through our portal there are only three pieces of information required:
The loan amount your firm needs
Your preferred loan repayment period
Some basic income and expense figures from your firm
By limiting the amount of information needed on the loan application, everyone saves time, and we are able to issue loans at record speeds. In some cases, new customers will see funds from a loan in their bank account in just a matter of hours. In today's rapidly changing, fast paced, and global business world this type of speed can allow you to capture more opportunities, maintain better relationships with vendors, and smooth out the cash flow cycle within cyclical industries.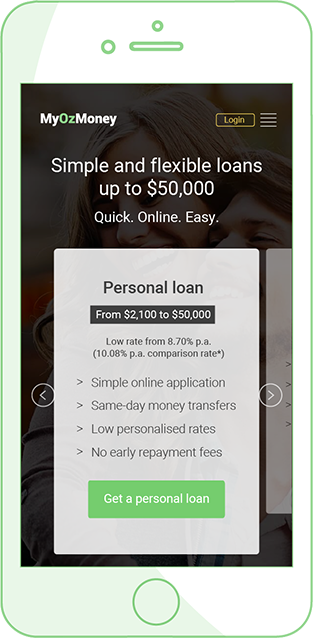 Get started today
Click here to see first-hand how we are changing the game for Australian businesses, and to get your loan application started. If you haven't used business lending services before, or it is your first time working with an online lender, fear not – we are here to help. Whether you are a small business, medium-sized firm, or international leader within your industry, MyOzMoney is built to provide fast business loans when you, and your growing business, need them most.