The basics of commercial lending
Commercial loans, or usiness loans, work just like a home mortgage or auto loan. You borrow money from the lender when you need it and pay the lender back, plus interest, over time. The key difference with commercial loans, is that the loan amount is designed to be used for commercial purposes. The loan agreement will state whether you can use any leftover money for purposes outside of the business.
When do you need commercial lending?
Many businesses use commercial loans when they need to make a large purchase, but don't have enough cash on hand. Your firm may need a new warehouse to store raw materials or a new piece of equipment to complete a large contract. Or your firm may be running into a tight time from a cash flow perspective. Most businesses owners have encountered these issues, and many businesses owners have used commercial lending services to bridge the financial gap.
It's important to note, however, that this commercial finance strategy is not just a helpful strategy for when money is tight. Today, interest rates are at historic lows – meaning that many commercial loan rates are also historically low. With this in mind, many business owners find it more convenient to keep extra cash in the bank and finance a new project with a commercial loan rather than cracking into the proverbial piggy bank.
So you might want to ask yourself – where are you today? Where does your business need to go? A company loan may help you get there.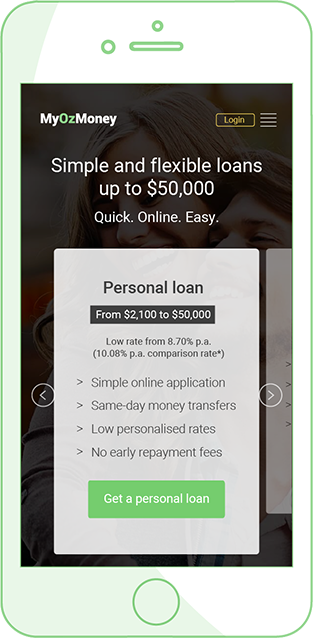 How we support Australian businesses
We aren't new to the commercial lending space, and have helped hundreds of Australian business owners put their dreams within reach. We are completely online, meaning that you have access to unsecured business loans wherever you are, whenever you need cash fast. Whatever your situation, at MyOzMoney we specialize in providing all major loan types to Australian businesses.
How to Get Started
Don't have a credit rating? No worries. Just one of the things that makes MyOzMoney unique is that we don't require a business to have a credit rating to get a commercial loan. This makes it possible for businesses of all sizes to get the commercial lending they need to keep things moving forward.
In our loan approval process, we strictly analyze your ability to pay back a loan by looking at your firm's total income less your firm's total expenses. If it looks like there is room for interest payments, it is very likely that we will find the right loan for your operation.