Why businesses use merchant cash advances
Consider the case of a grocery store that has had a relatively slow month of sales at the register. In a typical month, the grocery store expects to bring in around $50,000 in sales – but this month was just $20,000. In order to purchase produce for the upcoming month and pay their employees, they need to generate at least $25,000 in monthly sales.
This grocery store could consider using a merchant cash advance. Using a merchant cash advance, they can apply for $5,000 in the form of a short-term loan. Looking at their regular income and expenses, the lender will understand that the grocery story normally generates higher sales, and will be able to repay the $5,000 short-term loan. In exchange for this loan, the grocery store will be required to pay back the $5,000 loan plus interest to the lender.
Different types of merchant cash advances
Some merchant cash advances are provided by a credit card company, based on a percentage of future credit card sales. This type of merchant cash advance has a reputation for coming with sky-high interest rates. Credit card processors can get away with charging lofty rates because they know that many businesses do not want to go through the hassle of getting a loan from a bank or commercial lender to cover the shortfall. In some cases, the business doesn't have a credit rating and feels that a merchant cash advance is their only option. In many ways, credit card companies know that businesses are between a rock and a hard place when they decide to explore merchant cash advances.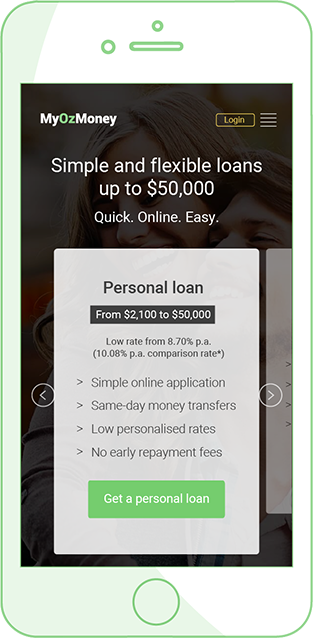 We are the middle ground
A MyOzMoney merchant cash advance is more like a small business loan. Our short-term loans have been designed specifically for Australian business owners. They can provide quick cash when you have a shortfall, and allow you to remain in control of the entire process. Simply let us know how much you'd like to borrow, the terms you'd prefer on the loan, and some basic information about your typical revenue and expenses.
With just this information, we will find a short-term loan that is right for you and your business. Just as important, all of our loans are unsecured business loans, meaning you will not be required to attach any physical assets to the loan agreement.
Head on over to our loan page and explore how our suite of commercial loan packages stack up against traditional lenders.