Running a business
Unsecured small business loans can help you establish or grow your small business. Starting a business from scratch may require you to purchase your own tools, stock, supplies, or office equipment. Running a business may present you with urgent bills that need to be paid before you have an income stream. You may also find yourself paying for repairs or upgrades to your office. On top of this, you will also need to consider marketing, advertising, and legal fees – all costs that can quickly add up. But an unsecured loan makes it easy to invest in your business, because you don't need to provide a security in order to receive your funds.
Planning
Making the leap from regular employment to running your own small business can be daunting. It's important to take the time to make a comprehensive business plan so you can be well prepared for the challenges that lie ahead. This should include writing down what you plan to use your unsecured loan for. With a well thought out business plan, can be confident that any costs associated with borrowing this money can be offset by the extra income your business will be able to generate as a result.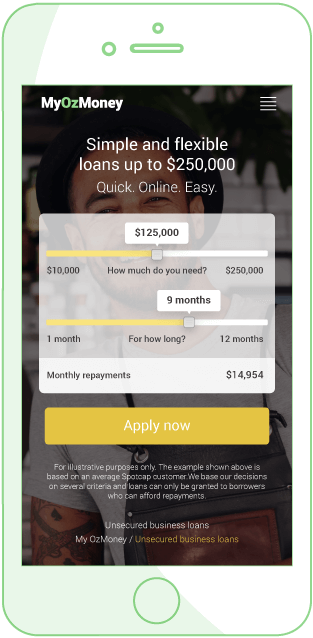 How to apply?
Once you've decided to start your small business, you can apply for an unsecured small business loan of up to $250,000 with MyOzMoney. Our online application form is quick and easy to use, and only takes around five minutes to complete. You'll receive an answer in minutes and, if you are approved, the money can be transferred to your bank account within the hour. Our great fixed interest rates and flexible repayment options give you the freedom and peace of mind to focus on running your successful business.
Responsible lending
At MyOzMoney, we take responsible lending seriously. We will only lend you money if we know you can afford to repay it. We disclose all of our fees and charges upfront, before you agree to the loan offer. This means there will never be any surprises later on. We offer great rates if you have an excellent credit history, and we also reward you with discounted rates on future loans if you repay your loan on time. Our unsecured personal loans are so flexible that they can be used for any aspect of running your business.